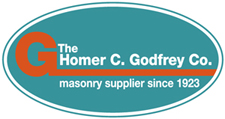 The Homer C. Godfrey Company is a family owned mason supply business, founded over 90 years ago in 1923. We are known as a source for bricks, pavers, block, stone, cement, limestone, pre-cast, drainage pipe, and many other masonry supplies.

Homer C. Godfrey, the company's first owner and namesake, was originally located on Sylvan Avenue near Bunnell's Pond in Bridgeport, CT. The company has since relocated to a larger yard on Central Avenue in Bridgeport.

Homer C. Godfrey's daughter, Martha Louise Godfrey MacDonald, a graduate of Smith College, was involved in every aspect of the company for 50 plus years.  Current president and vice president, Mark and Lynn MacDonald, both graduates of the University of Vermont, are the son and daughter-in-law of Martha Louise Godfrey MacDonald.  In 2005 Melanie Ruggieri, a member of the fourth generation of the Godfrey-MacDonald family, began her work at the company.  Melanie is Mark and Lynn's daughter and is a graduate of Georgetown University.

When it comes to understanding the special needs of the architect, builder, or homeowner, there is no substitute for experience. Our sales people have the necessary experience and understanding of the industry to offer an unsurpassed level of service and understanding. Unlike many larger warehouses, we offer personal service at our store counter, in our supply yard, and on the job site. Our inside and outside sales force work with homeowners, masons, general contractors, landscapers, and architects on product selection, technical information, and anything else our customers might need.

Building professionals know that a project does not begin and end with the construction phase of the job. We are here to assist in all phases of a project: cost estimating, material specifications, delivery scheduling, and product support are merely a few of the steps that we support.
Our location in Bridgeport, Connecticut along with 3 tractor trailers, 7 boom delivery trucks, and 3 dump trucks enables convenient delivery to all of Connecticut, Westchester County, Long Island, and beyond.
We look forward to seeing you soon. Please let us know if there is anything we can do for you.